If you are NEW to Halloween Horror Nights, one aspect to know is that it is typically EXTREMELY busy. Even the longest lines at Universal Studios and Islands of Adventure do NOT compare to HHN. Three hour waits without express. It is intense. It is long. BUT it is 100% worth it. Here are expert tips from a leading Universal Orlando Marketing Executive.
1. DITCH THE LINES
During my first visit, I made the mistake of not investing in
Express Passes.
Usually, Express Passes are a solid option, but not required to visit all attractions at the two theme parks. Horror Nights is a COMPLETELY different beast to conquer.Three hour lines for popular houses does not ensure that you will have time to visit every single house. Invest in Express Passes. You will not regret the purchase.
Another option is the
RIP Tours
! This option ensures you will not wait in a single line for Horror Nights. You are guided through the haunts and houses. It truly is a VIP, fright-filled experience. If it is within your budget, it is completely worth the added cost.
2. GO EARLY, STAY LATE
This is your best bet if express passes and RIP Tours are not affordable to you. Maximize your time to ensure that you visit either all or a majority of all that HHN has to offer. Annual Passholders have special early entry options listed
here
.
3. BACK -> FRONT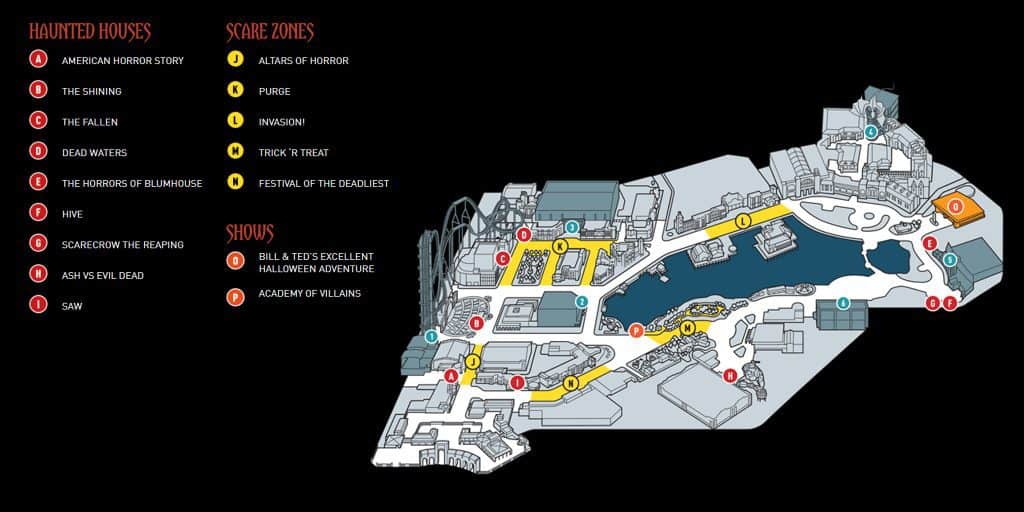 Via Orlando Informer

This one depends on preference. According to Sarah, the best way is to move from the back of the park to the front of the park. The lines are likely smaller toward the back since more people are drawn to the appeal of the first houses that they see.
However, if you have no express passes, you will need to prioritize which houses you NEED to visit. For instance, I'm a total American Horror Story buff, and if I visited without express passes, I would definitely be in line for this first. Arrive early. Prioritize top houses.


4. "WATCH THE SHOWS!"